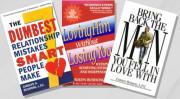 Carolyn is the author of the books The 7 Dumbest Relationship Mistakes Smart People Make, Loving Him Without Losing You, and Bring Back the Man You Fell in Love With

Do You Need Relationship Counseling?
All couples have differences.
It's how they deal with those differences that matters. In a healthy relationship, a couple would communicate their feelings about an issue. Then they would negotiate and resolve the problem, reaching a win/win plan where each one feels they got part of what they want. And finally, the couple would make a deal about how to handle any similar issue like that one in the future. Ideally, both would feel understood and cared for by their mate and go forward without resentment. Then as years go by, the couple would have fewer and fewer fights and disagreements because most of the issues have already been resolved.
This scenario seldom happens for several reasons.
Each person usually fights to be "right," one person often takes control early on, one or both feel guilty and avoid the issue, people get defensive and repeat patterns they learned as children, few people know how to communicate effectively, and couples usually don't have the skills necessary to actually "resolve" their relationship conflicts even when they want to.
The longer one or more issues goes unresolved...
The more resentment that builds up between a couple, eventually eroding the relationship and each person's self-esteem.
Could your relationship be at the point...
That someone needs to intervene and help the two of you move out of the resentment/ guilt syndrome and get your relationship back on track?
Take this quiz and find out.
Quiz:

Do you often feel hurt and/or angry by your mate's actions? (You may think you've told your mate, but nothing ever changes.)

Do you keep thinking "If I do this or that, our relationship will improve," but it doesn't? (You may be giving more than you get back.)

Do you fight about the same issues again and again with little or no resolution? (You think, "Here we go again!")

Does the word "divorce" often get thrown around during fights by you or your mate? (It may just be threat, but usually means that person feels hopeless.)

Do your fights often seem to be about ridiculous things? (Fights over nothing are signs of a power struggle.)

Do you edit your conversations with your mate, fearing you'll be judged, criticized or not understood? (When you stop communicating honestly, there is no chance of fixing it.)

Do you feel like you're living with a roommate, often spending time in separate areas of the house? (It's often lonelier living with someone you're not communicating with than it is living alone.)

Do you wish that your relationship had more fun and excitement, more passion, more emotional intimacy or more peacefulness?

Do you often think that if your mate would just change, then you would be happy? This is a sign of dependency, unrealistic expectations, and a fear of taking control of your own happiness.)

Are you sometimes embarrassed by your own behavior when you are with your mate, and/or talk behind his or her back? (If you are, just think of what you may be teaching your kids)?

If you answered yes to only 1 or 2 of the questions above, you may be able to work these issues out yourself or spend just one or two sessions with a relationship therapist to get the issues resolved.
3 – 5 yes answers means that you and your mate need to set aside time and do some serious talking and see a relationship therapist for a few months to try and get your relationship back on track.
If you answered yes to more than 5 of these questions, your relationship is in crisis and you need to see a therapist with or without your mate. (You can often change your relationship by seeing a therapist individually and changing your behavior which will force his/hers to change.) It's time to make some crucial decisions about your life and your future.