March 2016
Inside this Newsletter:

---

Message from Carolyn:

Happy Easter and Happy Spring! My regular email at carolyn@carolynsays.com is finally back up after 5 frustrating days with email server problems. But Geeks2You saved the day and all is good now.

I know Colorado just had another snow storm, but it's nice and warm here in Tucson of course. Spring and sort of summer is already here with everything blooming (see pix below of wisteria, roses, petunias, etc.).

We're coming back to Colorado in late May or June 1 since last May was so rainy and cold. I will have in-person office hours again this summer, probably in the same location in Cherry Creek.

I've been singing a country song, Girl Crush, which isn't really about a woman crushing on another woman (except to get her man back). But one of my past clients is having a real Girl Crush and sent me a question. See the answer below.

Pick up this week's Life & Style, dated April 4, 2016, on the stands now, for my quote on Blake Shelton and Gwen Stefani's relationship. My quote is below and at the top of page 29 in the magazine.

My 33-year-old client Denise can't figure out why she has such self-esteem issues. See the article below, "My Mother Damaged my Self-esteem, and Still Does" to find out what happened.

Hope everyone has a great Easter and a wonderful Spring!

Carolyn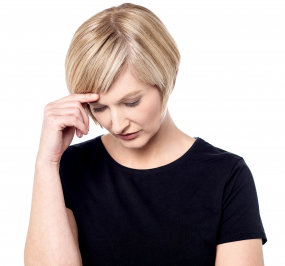 Denise is an attractive 34-year-old who always believes she' going to screw things up -- whether it's her job or a class she's taking. Sometimes it happens, but most of the time, it doesn't -- except with men. When she meets a man, she rushes in and wants to believe the relationship is more than it really is. It feels so good to be close to the new man because she always longed for this kind of closeness when growing up. Her mother was cold and critical, and her father didn't ever stand up for her. One time when she was in an accident and damaged the car, her mom actually said, "I wish you had broke your neck!"
Comments like this in her childhood has made her self-esteem so low that when a man verbally abuses her or cheats on her, she thinks she must deserve it, so she doesn't say anything. In fact, she usually thinks that if she could just change and become a better person, then he wouldn't treat her that way. It has taken her awhile in therapy to stop blaming herself and to realize that her mother set her up to be treated badly by others. Her mother made everything Denise's fault, and now Denise has been doing it to herself. She's had difficulty getting rid of the tapes inside her head.
And her mother still criticizes and blames her, so it never stops. But Denise was crying on her mom's shoulder when things would go wrong, still trying to get that closeness she longs for. What Denise didn't realize was that whining to her mom keeps her thinking that something really is wrong with Denise. Her mom is not consoling. Instead, she tells her to stop whining, to pull herself up by her bootstraps and handle it! This only makes Denise feel worse. Denise needs to realize that her mom, because of her critical behavior, is and enemy, and you don't tell your secrets to the enemy. Instead, Denise has to learn to stop her mom any time she says anything critical, and hang up if necessary. She's now learning to put the blame for her low self-esteem exactly where it belongs -- on her mom. There's not something wrong with her, there was something wrong with her upbringing. And when her anxiety creeps in and she thinks she's going to mess something up, she needs to say, "Screw you mom, you're wrong about me!" Once she can stop her mom and remind herself not to take the blame, she will not only become more successful, even with men, but her self-esteem will grow by leaps and bounds!
Return to top >>>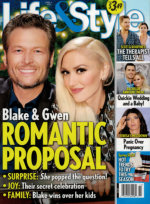 Life & Style Magazine, April 4, 2016, pp 26-29, Now on the stands, has a quote by me. When I was asked about how Gwen and Blake's marriage, along with Blake's closeness to the kids, might affect their children's dad Gavin, I said:
Denver-based licensed professional counselor Carolyn Bushong says if Blake and Gavin ever disagree about the kids, Blake is the one who needs to back down. "Blake has to treat Gavin with total respect, even though Gavin [allegedly] cheated on Gwen, because he is the children's father," Bushong says "It'll help Gwen because the last thing she needs is her boyfriend and ex fighting in any way. It'll also help provide stability for the kids if he shows respect to their father."
Return to top >>>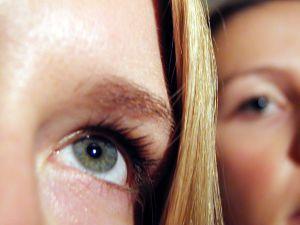 I have a question, well more of an issue I can't seem to find an answer anywhere and of course you're the go to person for affairs of the heart.
First off I'm married & totally into my husband (in love) all areas. Well.......lately I've met someone female I'm totally smitten with. She's amazing & I guess I have a girl crush ....at first I didn't even notice her but my little girl kind of fell in love with her and I watched them together, and it just did something to me. Now I cannot stop thinking about her. She's like 15 years younger and WAY different from my life. I don't think it's sexual, I just want to be near her and then I can't breathe...mentally I've tried to think of her in a sexual way just to see if that's it and it kind of weird's me out and feels too close to crossing a line and not appropriate. But I'm dying, I just don't know. I've even considered being mean to her just to hide this...what do I do -- make friends with her or avoid her? Also it's a very new relationship HELP .....also does this make me crazy? I've NEVER FELT LIKE THIS for a girl. I have a bunch of friends and a couple I've kind of told say it's normal but it feels strange. Ok what do u think? If you can answer this, I'd Be great full plus I bet other people have this issue?
Girl Crushes are not that abnormal. Many of us admire something about someone and want to be around them for that reason. Sometimes it's their humor, the way they dress, their youth, they way they relate, or their outlandish behaviors. You say it first happened when you saw how she could relate to your daughter, so that probably has something to do with it. Also, her life is very different from yours. That's probably fascinating to you. Maybe you want to change a few things in your life and she represents that.
I'm not saying that for certain it's not a bi-sexual desire. I don't know if you feel nothing sexual or you just think it's inappropriate. It could also be that the two of you do have a lot of similarities and that you're attracted to that -- kind of like adoring yourself.
I do know this, however, the bigger the secret about it, the more it will drive you crazy and it will make it a bigger deal than it really is. Don't avoid her. Think about what you admire about her and tell her, with no sexual or weird overtones. And tell her a little bit at a time, not to overwhelm her. Say, "I just love how great you are with my daughter." Or, I love your attitude about ........." Saying these things to her in a casual way should calm down the intensity and your feelings of being crazy.
Return to top >>>
I truly cannot thank you enough Carolyn, for giving me the steps a few months ago to stop enabling everyone in my family, but especially my brother. I finally convinced my sick brother to see a dr. and gave him options, on finally going to the Clinic, or Emergency room. I let him choose and he chose the ER and low and behold, he was put immediately into the ICU, his heart was shutting down, and his lungs had filled up with large amount of fluid! I'm pleased to say he's recovering amazingly, otherwise we would have all probably just continued staying in denial with him, until he probably passed away... this is why I choose you for my life coach, because you have always gone above and beyond! Thank You :) Talk soon.
~ S.D., Denver
---
Thank you Carolyn. I love the extended support and true caring you have shared with me over the years and even now. :) I referred two of my friends to you. One seems to be handling her break up very well and quite maturely, where my other friend texted that she heard from her guy who apologized for not having anything planned with her for Valentine's Day (nice, huh?). Next time he screws up, I'll encourage her to schedule an appointment with you...she really needs your help.
~ C.S., Denver
---
Dear Carolyn, thank you for being the best person for me learn from. I'll always love you.
~ L.L.
---
Dear Carolyn,
I've been on your mailing list for a couple of years and always read your newsletters. The July Newsletter, "Why Marriage Doesn't Work," really hit home and I wanted to write you directly. I sincerely appreciate your honesty and transparency in your discussion of finances in your own relationship as well as how honest you were in describing how being the girlfriend, instead of "wife" protects you from developing resentments. I am 42 years old, never been married and happily child-free. I have been in a relationship with my boyfriend for nearly 3 years. We are both aware that money is the #1 cause for divorce, and have had many heated discussions about it. He is scared about my recent diminished earning power, even though our finances are separate. I respect and admire your choice to remain child-free and marriage-free. I think those both remain unconventional choices in today's world. I have been searching for older, wiser women with experience and success in these areas. I really admire your honesty - I can't say that enough. Here's to women carving out their own path and living their own unique, self-created lives!!! Cheers to you Carolyn!
~ C.T., CA
Return to top >>>
Carolyn Bushong, L.P.C, is an expert on relationships and a licensed therapist. She is known for being one of the top relationship therapists in the country and the author of 3 relationship books. She has appeared on Oprah, the View, and many other TV shows, and she has been giving relationship advice on Denver radio for more than15 years. She has been helping people like you improve your life and relationships for more than 30 years. Cosmo, US Weekly and other magazines quote her expert relationship advice, and McCall's named her one of the "Top 6 Passion Doctors" in the country. Carolyn Bushong always has fresh, up-to-date, hot information on topics that will inspire you and change your life and improve your relationships. She has clients all over the country, some who come into her office and others who receive Carolyn's expert advice through phone counseling. Carolyn Bushong is an excellent psychotherapist, but she also lives what she teaches, as she is in a happy, healthy relationship with Alan, her mate of 28 years.
You can find articles by Carolyn on her website and Examiner.com.
FOLLOW ME ON FACEBOOK as I post all of my articles there.
---
How to get Carolyn Bushong's Relationship Advice:
Individual Counseling: l hour or ½hr sessions by phone, Health Insurance may cover a portion.
Couples Counseling: 1 ½ hr. sessions, Health Insurance may cover a portion.
Purchase Carolyn Bushong's books: on her website.
Subscribe to free email newsletter: www.carolynsays.com
Phone Counseling is a great way to do therapy, especially for the really busy person who's constantly on the go, or the person who is shy or hesitant to talk about their problem, or when the weather is bad and you don't want to drive to a therapist's office. It just makes sense in this day and age to be able to call and discuss a problem and get advice on a situation with having to leave work or home.
Email Advice: Visit Carolyn's website for more information.
303-333-1888
You are receiving this message because you signed up to receive The Relationship Newsletter, are a client, or purchased something from Carolyn Bushong. If you'd like to be removed, click the opt-out link below.

Copyright 2016 Carolyn Bushong. All rights reserved.

Note: Please add Carolyn@CarolynSays.com to your address book so you have no trouble receiving future issues!

Tell a Friend: Please forward this message to your colleagues, clients and friends.

Carolyn Bushong, L.P.C.

www.CarolynSays.com
Email: Carolyn@CarolynSays.com

Contact Carolyn Bushong at
303-333-1888