April 2013
Inside this Newsletter:

---

Message from Carolyn:

Thank God the snow in Denver has finally quit and we can come home from Tucson. Itís been wonderful here this winter once it finally warmed up in the last couple months. But as we all know, thereís nothing like the summer in Colorado! Iím so looking forward to it!

The cactus are starting to bloom here right now and itís beautiful. See below the pictures of a cactus blossom and my beautiful backyard here in Tucson.

I will have office hours starting this Wed, May 1, 1pm to 7pm and every Wednesday throughout the summer until October. Iíll be office sharing at 950 S. Cherry St., Suite G-4, 80246, in Cherry Creek (a few blocks from my old office on the other side of Colorado Blvd.). I will also still be conducting phone appointments this summer on Tuesdays and Thursdays.

I canít wait to get back and see all my friends and clients again!

Carolyn
Another Success Story Ė thatís what Sara put in the subject line when she emailed me her engagement picture.
Attractive, successful 33-year-old Sara came into my office for dating coaching about a year and a half ago. She had had a series of short-term relationships with bad boys. And of course, the relationships always ended up the same way Ė disappointing. She was frustrated and discouraged.
Sara had been in therapy before and knew that she was choosing emotionally unavailable men because of her mother issues. She just didnít know what to do about it. Her mother was not only emotionally unavailable, but actually had serious problems. She had been committed 3 times with paranoid delusions. Her dad had divorced her mom, remarried, and moved on. This left Sara, an only child, feeling the sole responsibility for her mom. She was not only overwhelmed with the stress in that relationship, but also feared that no man would ever want her because of so much baggage.
Below is the basic program Sara and I worked with:
Dating Coaching: In the past, Sara had let relationships move too fast, overgiving and trying to please, because she longed so much for a happy, healthy relationship. I helped her learn healthier rules for dating. I taught her to take it slow, ask for what she wanted and to let him know when she didnít like his behavior. I helped her have higher expectations about how to be treated, to always keep the relationship equal, and even to fake confidence when she wasnít necessarily feeling it.
Cleaning up Past Issues: I helped her clean up some old issues with her father that had her thinking men would always leave her like he did. She still had anger at some exes to purge, and we resolved her guilt and embarrassment regarding her mother. This strengthened her and helped her gain real confidence, and also helped her become more emotionally available herself.

Boundaries: In our therapy, Sara started to realize that she did not have to let her mother mess up her life. She started setting boundaries with her mom and soon learned to set them with the men she dated as well.

Learning to Speak Up: We discussed places to go and ways to meet men, but she also joined www.eharmony.com. She soon had plenty of dates for us to analyze. We discussed the men she met and looked for the red flags. But most importantly, I showed her how to confront the issues with each guy (something she was never able to do in the past because of her childhood). Her self-esteem grew and she was on her way.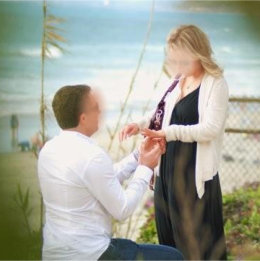 Successful Ending: After about 8 months of working on herself and dating a multitude of guys, she met Jim (on eharmony). She took it slow and everything she had learned, and worked so hard to achieve, finally paid off. Things started clicking right away with Jim and she came into my office saying, ďItís going better than expected, and Iím scared!!Ē We worked through it.
Since that day Sara has only been in my office a handful of times to discuss certain issues as her relationship with Jim was building.
Now one year later, Jim got down on one knee and asked her to marry him (see picture). They just got engaged and plan to get married in late fall. Her dreams of finding a wonderful, loving, caring relationship have finally come true. Congratulations Sara!!
(Permission was granted by this client to tell her story and share their picture, although the names have been changed.)
Return to top >>>
My office for the summer will be at Cherry Tower at 950 S. Cherry, Suite G-4, 80246 in Cherry Creek.
The office is East of Colorado Blvd and only a few blocks from my old office. It is the same office I used in November and December before I left for Tucson.
My office hours will be mainly Wednesdays only for in-person appointments and Tues and Thurs for phone appointments. I am sharing an office with another therapist, Deborah Holden, and the office is downstairs in the garden level.
Directions:
If youíre driving South on Colorado, when you see the Staples on your left, turn left. Then go a few blocks to S. Cherry and turn right.
If youíre driving North on Colorado, when you see the Walgreenís on your left, turn right on Mississippi, then go a few blocks to S. Cherry and turn left.
The Cherry Towers building is a high rise on the East side of the street in the middle of the block. There is plenty of visitor parking.
My phone number is still the same 303-333-1888, but this number is not connected to this office. I will transfer the phone line to my cell and/or check messages in case you get lost.
Just FYI: when you arrive, you will enter into a large reception area, then at the G-4 office, you will enter a small reception room with the door closed off to the main office. Just wait there until I come and get you. Also, if you want water or other things to drink, there is a small food court on the mail level.
Return to top >>>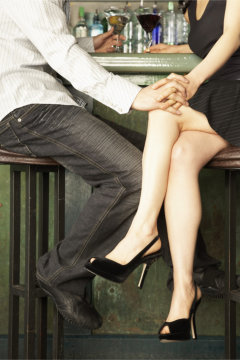 Question:
I know youíre supposed to take a relationship slow when you first start dating someone, but Iím afraid that if Iím not sexual pretty quickly that the guy will lose interest or think that weíre just friends. And as much as I want a friendship with someone I date, I donít want him to think Iím not really interested in him in that way. How do I take it slow, but keep that sexual attraction going at the same time?
Answer:
It is a difficult balance to take the relationship slow with someone youíre really attracted to. The purpose of taking it slow is to continue to build that chemistry and excitement while heís getting to know you as a person. When you have sex too soon, the so-called relationship becomes just a sexual one that is doomed to end as the excitement wanes. Also, if a guy walks away when you donít have sex with him early on, you can be assured that sex is all he wanted, so youíre saving yourself a lot of future pain. To keep it exciting and romantic, you do go ahead and kiss and touch moving forward toward sexual intimacy gradually. But you also hold a boundary of how far youíll go. As you do this, you need to continually let him know how attracted to him you are, but that you want to get to know him better first. If he really wants a long-term relationship, heíll respect that.
Return to top >>>
The terrible bombing tragedy in Bostonís only silver lining is the heroism of the bystanders who bravely ran toward the gruesome scene to help those that were wounded. It tells us that both compassionate behavior and heroism are not gone. In the past research has told us that onlookers often do just that and nothing else but look at what is happening without helping. The Boston situation suggests that times are changing and people are showing more of a desire to help people who are suffering. Research shows that it may be because an interpersonal connection occurs during times of crises. With the many crises we have experienced as a nation over the recent years, maybe weíre developing a shared vulnerability that is now inspiring kindness, compassion and supporting each other. Letís hope this heroic behavior continues.
Return to top >>>
Rihanna says she ďDoesnít Understand LoveĒ on the stage during ďDiamondsĒ World tour. Rihanna was performing at the Staples Center in front of a celebrity filled audience when she asked: ďHow many of you are in love? How many of you hate love? How many of you donít f****** understand it? Iím in that group,Ē she said. Of course we all know that Rihanna doesnít understand love because of her on and off again relationship with Chris Brown. Women who have been abused often see the abuse as part of love, especially if thatís what they experienced in their childhood. When someone treats them badly, physically or emotionally, they feel theyíve done something to deserve it (and the abuser tells them this is true), so they try harder and harder to win his approval, thinking itís their fault. I hope she gets some therapy and figures this out soon instead of torturing herself with Chris Brown.
Return to top >>>
I have ordered all three of your books as ebooks and paperback. I have found your ebooks a great help and really useful for reflection as well as putting to practical use in my own life.
I am a social worker in the field of Community Mental Health and also work as a private mental health counselor. Would love to do a training course with you for professional development? Let me know if thatís possible.
~ R.H., Victoria, Australia
Return to top >>>

I am one of Date Campís coaches, and they have set up some the following workshops for the summer:
The first two events we are sponsoring and co-hosting are being held on May 18th and are being conducted by Joanna Kennedy of the Center for Happiness, Love & Pleasure. Many of you already know and have worked with Joanna. She is Date Camp's Program Director and we've been working together to develop Date Camp for several years now.
Here are Joanna's two events:
Igniting Romance Playshop - May 18th 10am - 4pm

Conscious Lovers Evening - May 18th 7pm - 10 pm
Return to top >>>
Carolyn Bushong, L.P.C, is an expert on relationships and a licensed therapist. She is known for being one of the top relationship therapists in the country and the author of 3 relationship books. She has appeared on Oprah, the View, and many other TV shows, and she has been giving relationship advice on Denver radio for more than15 years. She has been helping people like you improve your life and relationships for more than 30 years. Cosmo, US Weekly and other magazines quote her expert relationship advice, and McCallís named her one of the ďTop 6 Passion DoctorsĒ in the country. Carolyn Bushong always has fresh, up-to-date, hot information on topics that will inspire you and change your life and improve your relationships. She has clients all over the country, some who come into her office and others who receive Carolyn's expert advice through phone counseling. Carolyn Bushong is an excellent psychotherapist, but she also lives what she teaches, as she is in a happy, healthy relationship with Alan, her mate of 25 years.
FOLLOW ME ON FACEBOOK as I post all of my articles there.
---
How to get Carolyn Bushong's Relationship Advice:
Individual Counseling: l hour or Ĺhr sessions in office or phone, Health Insurance covers a portion. Couples Counseling: 1 Ĺ hr. sessions, Health Ins. covers a portion.
Purchase Carolyn Bushong's books: for sale in her office, on her website or B&N.com.
Subscribe to free email newsletter: www.carolynsays.com
Phone Counseling is a great way to do therapy, especially for the really busy person who's constantly on the go, or the person who is shy or hesitant to talk about their problem, or when the weather is bad and you don't want to drive to a therapist's office. It just makes sense in this day and age to be able to call and discuss a problem and get advice on a situation with having to leave work and drive to my office.
Email Advice: Visit Carolyn's website for more information.
303-333-1888
You are receiving this message because you signed up to receive The Relationship Newsletter, are a client, or purchased something from Carolyn Bushong. If you'd like to be removed, click the opt-out link below.

Copyright 2013 Carolyn Bushong. All rights reserved.

Note: Please add Carolyn@CarolynSays.com to your address book so you have no trouble receiving future issues!

Tell a Friend: Please forward this message to your colleagues, clients and friends.

Carolyn Bushong, L.P.C.
P.O. Box 1094
Conifer, CO 80433

www.CarolynSays.com
Email: Carolyn@CarolynSays.com

Contact Carolyn Bushong at
303-333-1888