Why we don't love ourselves
We aren't born with low self-esteem, instead we're taught to not love ourselves. We start our lives as babies, crying for what we want, making it all about us. We learn to doubt ourselves, thinking we're not good enough, when others remind us of how imperfect we are. And of course, we aren't all good at everything, but we do all have our own strengths and weaknesses, which is what makes us who we are.
Look back in your life and think about who has rained on your parade, who made you feel like you were less than them, who set you up to fail at certain things. If your self-esteem is low, it's because you believed these people's assessment of you without looking at who they were and what their motives were.
Bullies
Most people who put you down and criticize you do it because they feel insecure themselves (maybe when they're around you or maybe just something from their own past). Bullies cover up their insecurities by making you feel insecure. In fact, it's so automatic with bullies that they usually don't even realize why they're behaving that way. It becomes an automatic defense mechanism they use in life to keep themselves propped up and feeling better than others. They keep it going mainly because it works so well. Each time it works on you, they themselves at some level start to believe they really are better than you. That's why you can't let them get away with it.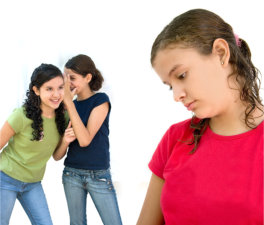 I was surprised to read that Jennifer Lawrence, award winning actress, was bullied in school. Shocking that someone so beautiful and successful was picked on. But it's actually not that rare. I have several clients who are very successful in many ways that were bullied in school. Sometimes being picked on can create anger that turns into "I'll show you." After all, success is the best revenge. Of course bullying and bad treatment do leave emotional scars that often require therapy to heal. Maybe that's why Jennifer Lawrence was so good at playing crazy in Silver Linings Playbook.
I was certainly bullied and criticized myself. As a kid I had red, curly hair, and was teased by the boys, "I'd rather be dead than red on the head." When I was ready to go to college, my dad said I should just stay home and be a secretary. When I left Aspen, I was told by my older PhD business partner that I'd never succeed as a therapist in Denver without her. When I decided to guest on TV shows, a friend said, "Who do you think you are?" In each situation, I had to think about the motive of the person bullying or criticizing me or raining on my parade. The "red on the head" came from 5th grade boys who didn't know how to properly flirt yet and wanted my attention. My business partner didn't want me to leave and move to Denver. My dad maybe wanted to protect me from the possibility of failing, but most of all wanted to keep me at home. And my "friend" would never have the courage to try to get on TV herself, so she wanted me to feel as insecure as she was. Their comments motivated me to prove them all wrong.
Jennifer Lawrence was obviously able to turn a bad situation into a good one. Some people who are bullied remain victims for life and others figure out how to turn it around. We all have our crosses to bear. It's about what you do with those bad situations that matters the most. High self-esteem is key to handling critical people and/or bullies.
Self-esteem
If you accept other's negative comments about yourself, your self-esteem stays low, you become a non-risktaker, so you never get to prove to yourself that you're good enough.
If the negative comments anger you because you know you're better than that, you think, "I'll show them!" Your anger then motivates you to take risks and try harder, and usually succeed.
What to Do
Just knowing this information – that the bully is insecure deep inside or they wouldn't need to act like they're better than you – gives you all the power you need to stop it. Understanding their motive, which is to lift their own self-esteem by making you feel bad, instead of assuming that there is something wrong with you, can make you see through them. You need to stand up to them, not by arguing with them about whether or not you're good enough, but by calling them on their "mean" behavior. Let them know you won't put up with it, and then walk away, and you will crack their defense system. But you must do it each time they are mean, so they realize that you really won't put up with it. If they won't admit they've been mean and won't apologize, it doesn't matter as you will no longer let them affect your self-esteem, so you still win. If they continue to treat you badly, spend less and less time with them. Each time you stand up to someone who puts you down, your self-esteem will increase, and doing it will create an upward spiral of positive self-esteem.
Return to top >>>