December 2012
Inside this Newsletter:

---

Message from Carolyn:

Merry Christmas! I hope everyone is enjoying the holiday.

Alan and I finally made it down here to Tucson, but what an ordeal! We both missed our last day of work (his final retirement day – Wed., Dec 19) because of the snowstorm (10 inches at the mountain house). My clients that were supposed to come to my temporary office in Cherry Creek had to do phone therapy after all. We drove straight through (15 hours) on Friday, Dec 21 (the day the world was supposed to end). We took my 6 cats (in individual carriers), but had trouble catching one of the feral cats before we left – even though we gave him valium. It was quite an experience, but worth it. All cats are adjusting just fine and we're loving it.

It was 6 below zero when we drove through Alamosa, Co that morning, and 74 degrees yesterday, our first day back in Tucson. It's only 64 degrees here today, but I'm sitting in the sun by the pool in shorts and a spaghetti strap top. My bougainvillea's are looking fabulous (see picture of front of the house) and the green grass and red geraniums in back (see picture) seem amazing for the end of December.

We put lights on the short palm tree by the two tall ones (see picture), and we have real mistletoe hanging from a tree in the front – that's as much Christmas decoration as we're going to have this year. My mom is at my sister's and they were all disappointed that we didn't make it there, but we promised to visit them in the Spring (before we come back to Denver). We are looking forward to a quiet Christmas Day here in our Tucson home. Hope you all have a very very Merry Christmas!!

Carolyn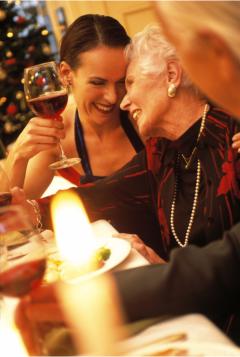 Every year at this time, many of my clients struggle with their family relationships – their controlling dads, their avoiding moms (or vice versa), their bullying sisters and disappointing brothers (again sometimes vice versa), and then there are crazy aunts and drunk uncles. At this time of the year, people often realize how much their families have affected their lives, and how that needs to change.

One of my female dating coaching clients has been afraid to date because she knew she would eventually have to expose her guy to her crazy mom. She thought that this would be a bad reflection on her, not realizing that most of us have a family member that embarrasses us. This Christmas she has a new guy in her life and they're finally meeting each other's parents. She's no longer worried now that she's finally gotten the issues with her mom under control.

A male client of mine hopes to confront his dad on his controlling ways this Christmas because he now realizes why he finds it so difficult to get close to the women he dates – it's been easier to keep a distance that worry about being controlled by them.

Another female client was complaining to me about her dad's call saying he might not come to visit her at Christmas after all. She said he withdraws and feels sorry for himself when he's upset and never even tells her what he's upset about. As she told me that, she realized that she does exactly the same thing in all of her relationships – with her husband, at work, and with her friends. With her dad treating her that way, she now sees how this bad behavior affects those she loves. She plans to have some heavy discussions with her dad this year regarding the behaviors he taught her, and she vows not to continue to be like him anymore.

Several of my clients said they were dreading Christmas Day with their families because it's so boring, etc. I told them to try and structure it the way they want it to be. I did this myself several years ago and was able to stop dreading the holidays. If you want to watch the game, say so ahead of time. (One client's stepdad turned the game off while she was watching it.) If football bores you, tell your family (ahead of time) that you're leaving to visit friends when the game comes on, or encourage several family members to join you for a walk during the game. We often forget to ask for what we want or to set boundaries around the day so that it can be more enjoyable. Just because it's a holiday doesn't mean you can't ask for some changes so that you can maybe even actually look forward to it.

This year take a look at your family dynamics. Note whether or not you see yourself in some of their bad behavior. Think about how certain behaviors of theirs have affected your own relationships. Use this time as an opportunity to make changes in your life that will improve all of your relationships, as well as make your holidays better in the future!
Return to top >>>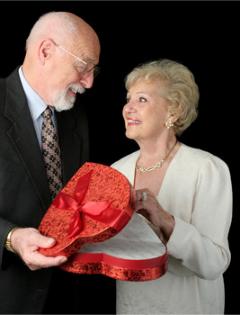 There are more over-50 online daters than ever these days. You might think that it would be difficult to find someone online when you're older, but actually there are more options than ever for this age group.

There are still tricks of the trade that you need to follow when trying to meet someone online. People over a certain age tend to talk about their grandchildren, their past lives, or what it's like to be retiring or retired. That may be what is going on in your life right now, bit it's not sexy. Instead, remember to focus on your future and sell yourself.

In setting up your profile, try these 5 tips:
Emphasize your active lifestyle. Don't even mention the word retirement because it puts you in a certain category and indirectly says the opposite of an active lifestyle. Instead try, "Since I left my law practice a few years ago, I've been volunteering for an animal shelter." Or, "I teach English as a second language." Bring your past experience into your profile—what is your expertise? The key is to focus more on what you are doing today than delving into the past.

Answer the question: What makes you an exciting person? For example, "I've traveled to Paris, but I still hope to see Asia someday." Or, I'm back in school taking classes in design, something I've always been interested in, but never had the time for before." Demonstrate an appreciation for learning and fun to show that you're open minded and not set in your ways.

Present yourself as sexy without using sexual terms. Go ahead and admit that you read 50 Shades of Grey. That is sexy. Just don't talk about your favorite positions or use explicit language. It's perfectly fine to express what makes you feel sexy. Say, "Here's a favorite picture of me salsa dancing," as opposed to "I love to shake my body when I dance." Select photos where you feel and look your best (but do omit revealing pictures of cleavage and hairy chests or you will be inviting the wrong type of person!)

Sound financially responsible without offering specifics. Sell yourself, but don't oversell, and certainly, never brag or again you will be inviting the wrong type of person. If you are not of economic means, it's probably good to avoid the topic altogether. Somehow you want to get across that you're independent and can take care of yourself, yet not looking to support someone else.

Focus on all that is positive in your life. Have you read a terrific book within the last year? Mastered a new skill, like fly fishing or using a potter's wheel? Seen a memorable film? Frame your written profile with pleasant experiences, staying away from negative discussions about your knee surgery, cataracts, or any other health ailments. Women are more guilty of being too upfront about all the things wrong with them, and this can be a real turn-off.
Remember that online dating is all about sales. Don't oversell or people you meet will be disappointed. But make sure potential dates know what is best about you. And it's never too late to meet Mr. or Mrs. Right!
Return to top >>>
Carolyn Bushong, L.P.C, is an expert on relationships and a licensed therapist. She is known for being one of the top relationship therapists in the country and the author of 3 relationship books. She has appeared on Oprah, the View, and many other TV shows, and she has been giving relationship advice on Denver radio for more than15 years. She has been helping people like you improve your life and relationships for more than 30 years. Cosmo, US Weekly and other magazines quote her expert relationship advice, and McCall's named her one of the "Top 6 Passion Doctors" in the country. Carolyn Bushong always has fresh, up-to-date, hot information on topics that will inspire you and change your life and improve your relationships. She has clients all over the country, some who come into her office and others who receive Carolyn's expert advice through phone counseling. Carolyn Bushong is an excellent psychotherapist, but she also lives what she teaches, as she is in a happy, healthy relationship with Alan, her mate of 25 years.
FOLLOW ME ON FACEBOOK as I post all of my articles there.
---
How to get Carolyn Bushong's Relationship Advice:
Individual Counseling: l hour or ˝hr sessions in office or phone, Health Insurance covers a portion. Couples Counseling: 1 ˝ hr. sessions, Health Ins. covers a portion.
Purchase Carolyn Bushong's books: for sale in her office, on her website or B&N.com.
Subscribe to free email newsletter: www.carolynsays.com
Phone Counseling is a great way to do therapy, especially for the really busy person who's constantly on the go, or the person who is shy or hesitant to talk about their problem, or when the weather is bad and you don't want to drive to a therapist's office. It just makes sense in this day and age to be able to call and discuss a problem and get advice on a situation with having to leave work and drive to my office.
Email Advice: Visit Carolyn's website for more information.
303-333-1888
You are receiving this message because you signed up to receive The Relationship Newsletter, are a client, or purchased something from Carolyn Bushong. If you'd like to be removed, click the opt-out link below.

Copyright 2012 Carolyn Bushong. All rights reserved.

Note: Please add Carolyn@CarolynSays.com to your address book so you have no trouble receiving future issues!

Tell a Friend: Please forward this message to your colleagues, clients and friends.

Carolyn Bushong, L.P.C.
P.O. Box 1094
Conifer, CO 80433

www.CarolynSays.com
Email: Carolyn@CarolynSays.com

Contact Carolyn Bushong at
303-333-1888