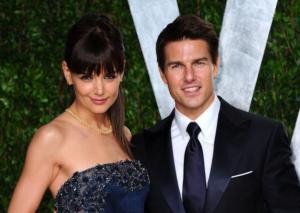 Like many women, I'm sure that Katie Holmes had an idea of her perfect man when she was young. And like many of us, her idea was quite naïve. She said she had fantasized about Tom Cruise for years before dating and marrying him, having a poster on her wall of him as she grew up. The problem is that in our fantasies we never stop to find out what the tradeoffs might be when we're with someone like Tom. Katie said Tom was the "man of her dreams." That's probably why she didn't see the red flags that were so obvious to us.
I'm sure Katy liked Tom's good looks, macho persona, and seeming control of his life. Those traits have pulled in many women to men we shouldn't be with, and we end up finding out what Katy has finally realized: when you're with a control freak – it's always all about him. He doesn't hear what you need, he doesn't care how you feel or what you want, he doesn't really value women, and he certainly doesn't believe in equality in a marriage.
The Red Flags of Katy & Tom's Marriage:
1) Whirlwind Romance
Katie and Tom became engaged after 2 months of dating. Had they dated a year before getting engaged, his controlling behavior would have reared its ugly head or she would have probably been warned by someone. I tell my female Denver clients that I coach for dating to watch out for men who rush them since it always ends badly. More often, men who rush women are commitmentphobics who bail in 3 months or so. The other men who rush are control freaks who make their decision about you and then make your decision about them as well. We're often flattered that they want us so bad, but we shouldn't be. These men are manipulative, analyzing the situation and making you an offer (or offers) you can't refuse. Maybe the offer is marriage, maybe to pay off all your bills, maybe to have a baby, or maybe to set you up in business or the movies.
Tom offered Katie marriage and then trapped her by getting her pregnant (sure maybe she trapped him). Once a woman is pregnant with a man's child or has that baby, she will endure many things to make it work, certainly including being controlled. When I ask my clients why they stayed with their controlling men, they say, "I just endured by focusing on my children for the last few years."
2) Age Difference
It's so easy for a man to take control of a woman who is 17 years his junior. Then you add to that Tom's level of fame, and Katie didn't have a chance. As little girls we're taught to try and find someone to take care of us, so she probably thought she had hit the mother lode. Then when she got pregnant, she must have felt "Now I'll be taken care of forever." And maybe she and Suri will be taken care of, but she never realized the tradeoff. Any woman who has been controlled knows the truth: "Now that I've had his child, I'll never be able to get this controlling SOB out of my life!"
3) Living in Seclusion
Tom and Katie lived a secluded lifestyle in Beverly Hills. Of course, most movie stars try to hide from the public eye, but Tom took it a step further. Their lives were so secretive that even their actual wedding date is unknown. Controlling men always isolate their women. OJ isolated Nicole Simpson to the point that her family didn't even know he was abusing her. This is common. Their excuse? They say, "I love you so much that I want to keep you for myself." Or they say, "What goes on in our home is nobody's business but ours!" Controllers have to isolate because one girls' night out telling your girlfriends what's happening could be the end of their control.
4) Her Naïveté
It's always the sweet and nice girls that end up with controlling men. My female Denver clients that are sweet, naïve and overgiving to others come to see me because they've been taken for a ride. Sometimes it's being used financially, sometimes they're being abused, but the common thread is that they're always being controlled. Sure it's partly their fault for playing victim to these controlling men. But what these victims don't realize is that's what a controlling man is looking for – someone naïve who is also a blank slate. That's certainly what Tom Cruise wanted – someone he could turn into the "woman of his dreams." The key phrase being "turn into." Controlling men don't understand that their controlling ways only breed resentment and ultimately the end of the relationship. My father was very controlling with my mother and when she finally left him, he asked me, "Why did your mother leave me?" I listed the reasons and then he asked, "But I let her do anything she wanted, and I always treated her that way and she never left before. Why now?"
These sweet, nice, naïve victims rarely speak up. They go along with the program until they've had enough. But once they get the courage to leave, they are done. My mother didn't even want to see my father on his death bed. Anyone who has been controlled and abused understands this.
5) His Religion
The most obvious red flag of course is Tom's attachment to Scientology. He lets it control his life, so it will of course control his family's life. Not only was Katie controlled by Tom, but she had Scientology chaperones to control her every move. Again, the relationship probably happened so fast that Katie thought, "Once we're married, he'll trust me, and it will get better." I had a couple I worked with in marriage counseling whose husband controlled her through religion. He told her that she was going against Christ if she finished school and worked instead of staying home with their children full-time. He quoted Bible verses. But Scientology has that beat: In Scientology traditional ceremonies, brides are told that "young men are free and may 'forget' their promises." Grooms are reminded that "girls need clothes and food and tender happiness and frills, a pan, a comb, and perhaps a cat ..."
This certainly does not promote equality in a marriage. Quite the opposite. And as a marriage counselor, I can tell you that "partnerships" are the only healthy relationships.
Tom Cruise started off his marriage controlling Katie Holmes, as is evident from this quote from Nina Callaway regarding Tom's control preparing for the wedding. "Tom Cruise is famously controlling, and he's certainly been in charge of this wedding. Not only did he help choose Katie's wedding dress, but he's been on top of every detail from the menu to the gift bags. He's even said to have demanded that Katie go on a rigorous diet and fitness regimen … before the wedding. (Quote from http://marriage.about.com)
Many of us have sat in our homes thinking that Katie Holmes had turned into a Stepford wife, wondering how she could put up with Tom's controlling ways. From us to you Katie, "We're proud of you for leaving!"
Return to top >>>