Inside this Newsletter:

---

Message from Carolyn:

It's been a busy month or two. My father passed away July 9, right as I was sending out the last newsletter. As I said in my last newsletter, it was expected since he had dementia for the last 6 years and hospice had already been called in. Alan & I flew back to Mt. Vernon, IL for the funeral and saw my mother. Then my sister had already planned a trip out here, so right after the funeral, Ruth, her husband Ron, son Brett, and grandson Cameron spent 10 days here.

Though losing my dad is very sad, of course, the situation actually brought me and my sister much closer. We all had a great visit – my nephew Brett and I had many late night talks (like we used to do), and my great nephew Cameron, who is 10, sang karaoke with me. We sang Firework by Katy Perry (he knew every word), and then he sang and danced to Dyn-o-mite with my friend Jennifer. (See picture below.)

I've had a 2 month fight with a raccoon. Alan & I & my brother-in-law Ron played the game "Are we smarter than a raccoon?" The raccoon was climbing up the house and coming in the bedroom to try and get cat food, and was even able to open the sliding screen door. We tried many things on the outside of the house until Ron came up with a stick and hook idea that kept him out. The raccoon sat out there growling and finally gave up.

Remember to listen to me on internet radio at www.12radio.com on the third Wednesday of each month (next show is Wed., Sept 21) at 10am as I discuss relationship issues for an hour. You can call in or ask questions through the internet during the show. You can also post a question for the show on my Facebook Page.

Carolyn
Allowing others to criticize you damages your relationships with everyone. We're told that we should be able to accept "constructive criticism," but how often is criticism really meant to be constructive? People judge us according to their own standards. They criticize us because we're not doing what they want us to do. That kind of criticism is not only not constructive, it's manipulative. It's trying to make you feel bad about yourself so that you'll do what they want. Or sometimes they just criticize you to feel better about themselves. A healthy and constructive way someone can let you know they're upset and that your behavior toward them needs to be changed is by telling you exactly that – how they feel and what they would like you to do. If presented like that instead of using self-righteous criticism, it allows you to have a two-way conversation about the situation. But allowing others to criticize us causes us to question ourselves, lowers our self-esteem, and makes us chase others' approval.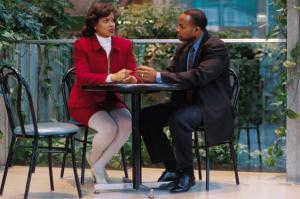 Take Tom for instance. Tom has three sisters who have criticized him his whole life, starting when they were children. They ganged up on him, pointed out every imperfection, bragged when they were better at a sport, and made him feel like an outcast. They're all adults now and his sisters still treat him like he's a little kid with something wrong with him. It's no surprise that Tom, who is now in his 40's, is still having difficulty with women. He's was married, but often let her wear the pants in the family. He's divorced and dating, but he tries too hard with women by chasing their approval. He tries to act perfect, gives too much, and never asks himself if these women are right for him.

We usually hear more about women behaving this way – chasing the approval of men. Many of my female clients over the years have been criticized and have felt abandoned by their fathers, leaving them eternally chasing men's approval. But sometimes it's other family members other than their fathers who cause the problem. In Marissa's case, it's her mother that she can never please or get through to. Men always leave her in 2 or 3 months, and she wonders why. She worries that something is wrong with her, but there isn't. What's wrong is that she gets so beaten down by her mom that she comes across too eager with each man. She devalues herself with them by being too available and having such low expectations of the men she dates.

In both cases, their problems in their love lives are caused by allowing family members to criticize them and damage their self-esteem. Both clients are successful wonderful people who give too much and then try harder when treated badly. Tom acts like his sisters don't really bother him, trying to mask his insecurities, while Marissa worries that there is truly something wrong with her, causing her to play victim.

We all need to be loved for who we are. Criticism, judgment, and abandonment hurt all of us. And when we don't stand up to those who've treated us badly, somewhere deep inside we believe it and it affects us in our future relationships. I'm pushing both of these clients to stand up to the people who started this pattern with them – their family members. Once they do that, their love relationships will go much more smoothly.

Below is an excerpt from Chapter 3: "Forgive Yourself for Not Being Perfect" from my book Loving Him Without Losing You.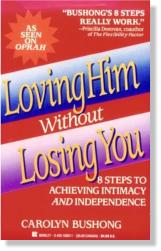 Forgive Yourself for Not Being Perfect

Most people can forgive others much easier than they can forgive themselves. It's common for us to understand why other people do what they do, more often than we understand what we do ourselves. We believe that "knowing" something should give us the ability to change it. But our intellect doesn't control our actions as much as our feelings do.
Nobody's Perfect
It's difficult to get rid of guilt when we've been criticized all our lives, and when those criticisms still spin around in our heads like a tape that won't stop playing. Often when we start to feel good about ourselves, someone will say or do something that pushes one of our buttons and reminds us that we're not perfect. These "buttons" are made up of all those criticisms on the tape that was created when we were children. People push our insecurity buttons by saying something like, "I can't believe you did that!" Then we think, "My mother used to say that about me, it must be true." Because we're so afraid we're "bad," we work extra hard trying to please this person, letting him or her manipulate us because of our insecurities. Our pervasive guilt about who we are allows this to happen because of our feeling that we "should" be better than we are. Until we can accept our humanness, especially our shortcomings, we can never allow others to get close to us. People love to tell other people what's wrong with them what they should and shouldn't do. It gives them a sense of power—a sense of righteousness.
We All Make Mistakes
There isn't a person alive that hasn't hurt someone, whether intentionally or not. We all make mistakes and our mistakes affect others. When we do make mistakes we may need to clean them up to rid ourselves of the guilt.

When you feel guilty, you can clean up your mistake by saying: "I feel terrible about what I've done to you. I really didn't mean to hurt you. I am sorry I hurt you. The reason I did what I did is ___________What can I do to make it up to you and earn your trust again?"'
Once you've tried to right a wrong, let it go.
Strengths and Weaknesses
To take charge of your life, you must accept that you aren't and never will be perfect. But you must also accept your strengths and weaknesses for what they actually are. For instance, I'm good at.... I'm not good at.... If you don't accept your imperfections, you can't accept yourself as you truly are, so you will have to maintain a facade. Do you believe that there are certain areas that you are weak in? Are you afraid you aren't smart enough? Attractive enough? Nice enough? We all feel insecure about something.

Most of us focus on our weaknesses too much. Make a list of some of your weaknesses. Then go back and write out a corresponding strength. Don't stop until you come up with a strength for each weakness.
The following are examples of this process:
Weakness

Strength

Controlling

Good leader

Can't remember people's Names

Usually remember what
people are really like

Overly concerned with looks

Attractive

Unattractive

Focus on more important things

Insecure

Understand others' insecurities

Cocky

Confident when others aren't
You are not and never will be perfect. Clean up any actual wrongdoings in your life and then forgive yourself. But most importantly, don't allow others to point out your imperfections. If and when someone does try to criticize you, tell them that you will listen if they will sit down and talk about what they're really upset about. And if they won't and just continue criticizing tell them to stop criticizing you unless they are ready to hear your list of their imperfections as well. This will keep you on equal ground. And when you know that someone is just putting their values and "shoulds" on you, remind them that you are different than they are and really aren't interested in their opinions!
For more info on this topic, See "Chapter three: Forgive Yourself for Not Being Perfect" in Carolyn's book Loving Him Without Losing You.
Return to top >>>
Is your relationship pattern one of finding men who are unavailable – either emotionally or time-wise?

Do you give too much to the men you date, i.e. too accommodating to his schedule, too open about your life with him, doing him little favors, etc.?

When you meet a man you like, do you rush the relationship or allow him to rush it, i.e. calling, texting, seeing each other several days in a row?

Do you put on blinders or make excuses for him when he does something wrong, i.e. shows up late, cancels dates, is disrespectful, etc., later realizing those were the red flags you should have paid attention to?

Are the men you meet often commitmentphobes?

Once you're dating a man, does he seem to take you for granted?

Do you throw yourself into him and spend less time with your friends and doing the things you enjoy once you're in a relationship?

Once you are dating him regularly, do you start fantasizing about your future together, thinking he's the one?
Even answering yes to one of the above questions means there is a problem in your dating style. This is an excerpt from Carolyn's ebook: How to Play the Dating Game which will give you the answers on how to handle the above situations.
Return to top >>>
I was recently interviewed by www.StyleandTechforMen.com, an online magazine for men, asking me about clues for men who are meeting a girl's parents for the first time. The question along with my answers should appear in the Questions section sometime in September, but the answers are also below.

Clues for Men who are Meeting a Girl's Parents for the first time
Dress appropriately as if it is an interview (because it is). Be lean and somewhat conservative.

Cover up any tattoos and take out any piercings.

Say things that might make you seem responsible, like "I recently bought a house in that area," or "I've just been working non-stop." Don't be too obvious however.

Find out in advance if you have anything in common with her parents, like hobbies or a favorite football team and bring it up.

Think about what your biggest flaw is that her parents might ask you about, and be ready to have a good explanation. If you're divorced, let them know you just married too young. If you're too old for her, let them know that you amazingly have a lot in common. If you're not working, explain how you're between jobs and mention your best job from the past. If you have a record, explain how you were young and stupid and have changed.

Say positive things about their daughter.

Be warm and friendly, but don't talk too much or give away too much personal information.
Return to top >>>
Carolyn Bushong, L.P.C, is an expert on relationships and a licensed therapist. She is known for being one of the top relationship therapists in the country and the author of 3 relationship books. She has appeared on Oprah, the View, and many other TV shows, and she has been giving relationship advice on Denver radio for more than15 years. She has been helping people like you improve your life and relationships for more than 30 years. Cosmo, US Weekly and other magazines quote her expert relationship advice, and McCall's named her one of the "Top 6 Passion Doctors" in the country. Carolyn Bushong always has fresh, up-to-date, hot information on topics that will inspire you and change your life and improve your relationships. She has clients all over the country, some who come into her office and others who receive Carolyn's expert advice through phone counseling. Carolyn Bushong is an excellent psychotherapist, but she also lives what she teaches, as she is in a happy, healthy relationship with Alan, her mate of 24 years.
FOLLOW ME ON FACEBOOK as I post all of my articles there.
---
How to get Carolyn Bushong's Relationship Advice:
Individual Counseling: l hour or ½hr sessions in office or phone, Health Insurance covers a portion. Couples Counseling: 1 ½ hr. sessions, Health Ins. covers a portion.
Purchase Carolyn Bushong's books: for sale in her office, on her website or B&N.com.
Subscribe to free email newsletter: www.carolynsays.com
Phone Counseling is a great way to do therapy, especially for the really busy person who's constantly on the go, or the person who is shy or hesitant to talk about their problem, or when the weather is bad and you don't want to drive to a therapist's office. It just makes sense in this day and age to be able to call and discuss a problem and get advice on a situation with having to leave work and drive to my office.
Email Advice: Visit Carolyn's website for more information.
303-333-1888