October 29, 2010
Inside this Newsletter:

---

Message from Carolyn:

Happy Halloween! I think this will be the first Halloween that it hasn't snowed since I've lived here. It's been a wonderful – warm & sunny – fall this year! I moved my flowers into my greenhouse with sunlight bulbs to try and keep them blooming through the winter.

Some of my clients have Seasonal Affective Disorder (SAD) which is already causing them to get depressed as the days of sunlight get shorter. One client says her "light box" works pretty well for this. I have a little of this myself and go into my greenhouse and deadhead with those sunlight bulbs shining down on me and the plants, which helps. If you have this problem (SAD), try some cheap sunlight bulbs you can pick up at Home Depot or Wal-Mart.

When the seasons change, we often get a feeling that we want change in our lives as well. Maybe we consider going back to school to take a class or improving our marriage or working on self-esteem, or figuring out why we keep repeating the same mistakes in our dating situation. Fall often motivates us to change something in our lives that has needed to be changed for a long time. This can be a healthy thing.

As a Marriage Counselor, I see some of the same problems over and over, of course. Mainly, I have women who complain about their husbands being unemotional (and sometimes men who say their wives are too emotional). If this is true about your guy (or you're one of these guys), see my article below on "Getting Men to Share Emotionally."

As a Dating Coach, I also see the same mistakes happening again and again. That's why I've finally written an ebook on How to Play the Dating Game, which is now on sale on my website at www.carolynsays.com. But I've also gotten involved with a new group called Daters Anonymous who is offering some free dating information for my clients. See article below.

You may have heard that Barbara Billingsley (TV's June Cleaver from the early 60's show Leave it to Beaver.) died last week at 93. I had the pleasure of meeting her back in 1994 when we did a TV show called Mike and Maty (in LA) on the topic of "How Real Moms can Learn from TV moms." (See more on this and a photo of us below.)

Carolyn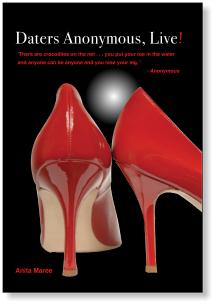 I have become involved with a group called Daters Anonymous Live. This group is selling a book on internet dating called Daters Anonymous Live! (See photo – I love those red high heels!) To promote the book, they are also producing a series of free world-wide seminars on dating with top experts from around the world. I am proud to say I was invited to be one of the speakers, and I am speaking at the webinar on Thursday, November 4 on Celebrity Dating, and have recorded a Q&A for the series on "What Women do Wrong in Dating and How to Fix it." I'm also offering a free ebook How to Play the Dating Game as a part of this online book campaign series. You can also purchase both my ebook and link to Daters Anonymous Live! on my website at www.carolynsays.com). You will also be able to download my podcast along with many others when you register for the series.

If you're single, this is a fantastic way to learn techniques and tips about dating and get the inside scoop about men, love and dating from many experts, including me. Plus it will be great fun!

This series of interviews is available FREE for a limited time with experts from all over the world speaking about love and relationships on audio you can download.

It can be a challenge navigating the unknown roads of dating. Listening to these experts as they discuss love and relationships from many different perspectives will get you thinking about how you are managing your own relationships….

In this series of interviews, relationship experts and award winning writers such as Susan Shapiro, Steve Nakamoto, Dr Jackie Black, Katherin Scott, Carolyn Bushong, Anna Karimo, Dr Diana Kirschner, Annie Gleason, Ann Robbins and David Steele (and more!) discuss love, romance and dating and talk about the principles and secrets that underpin successful, happy, loving relationships. This is an opportunity to listen to some powerful advice that is bound to deliver an A-ha moment.

Feel free to forward this information to friends and family who may be interested.

Listen to the experts discuss love, sex, men and dating. It is FREE! :)
Follow this link to get the entire series. The first free webinar is Thursday, November 4 (I will be speaking then), so don't forget to sign up!
Return to top >>>
By Carolyn Bushong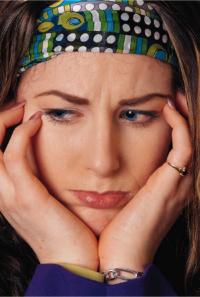 Recently several of my male clients have been accused by their wives of being unemotional. This is a common problem among couples. But, it goes further than just wanting him to open up. Because these men are unemotional, they have been unable to be compassionate when their wives were in crisis. This can cause a serious problem in a relationship that can sabotage the relationship for the future. What a woman needs in this type of situation is for her husband to actually be able to relate to the emotion of sadness or trauma or whatever it is. If he hides his emotions from her (and maybe even himself), it isn't possible for him to truly be compassionate or understand how she feels. Below are several excerpts from my book Bring Back the Man You Fell in Love With that may help.
Men Have Emotions, but They're Afraid to Show Them
When I accuse male clients of being unemotional, they always say to me, "But I do have emotions!" And of course, it's true. Men have and feel emotions just like we do. But they, of course, have difficulty expressing them because of their childhood training. Fathers teach men that it's weak and unmanly to show any emotion but anger. Then mothers teach them that it's wrong to show anger. Then we—their wives and girlfriends—teach them that if they are emotional with us, we'll lose respect for them. Society has programmed us to expect men to "handle" their emotions, and often by "handle," we mean not have any weak or insecure feelings. So they pretend that they don't—because we want them to.

Are You Ready to Hear What He Has to Say?
Often our own secret dependencies keep us wanting a man to be stronger and more fearless than we are so we can lean on him if we need to. To have him be emotionally open with you, you have to be ready to let him off the pedestal. You have to honestly want an equal relationship—want him to be your best friend. Usually, when we say we want him to be more emotional than he is, we mean just in a loving way. And of course, that's not possible. If your mate becomes more emotionally available, he will need to share all of his emotions— even the ones you don't want to hear.

How to Get Him to Share Emotionally
Make it safe for him to share by listening and accepting his feelings.

Teach him what you know about sharing emotionally, but don't shove it at him or make him think he has to be as emotional as you are.

Stop enabling his unemotional behavior.

Don't excuse his bad behavior with others.

Share your feelings with him.

Don't share more than he does.

Withdraw when he is cold and rejecting.
What Unemotional Men (and Women) Need to Know About Emotions
Emotional intimacy requires sharing your feelings toward your mate, openly, honestly, and directly to your mate, not anyone else.

Anger and confrontation are a part of resolving issues with someone you love.

It takes more courage to face a problem and resolve it than to hide from it.

The better you know yourself, the more you can share, and the closer both of you can become.

Getting in touch with feelings and wants is a necessary step that leads to finding solutions to problems, and then taking action.

Anger not expressed is stored and ends up being taken out on yourself (guilt) or others (resentment).

Becoming emotionally involved with someone does not mean you can never leave that person, so don't be scared of the commitment.

Both men and women have insecurities and emotional pain, and both have the strength to work through them.

For a relationship to grow and deepen, both partners have to continue to grow personally.

Emotional communication with a man is what turns us on and makes us feel close enough to want to be sexual with them.

The more you understand your emotional past, the better you can control your own future.

The more emotionally honest you are, the more authentic you are, and the higher your self-esteem truly is.
For more information on this topic, see "Chapter 6: Achieving Emotional Intimacy with Him" in my book Bring Back the Man You Fell in Love With. In this chapter, I also discuss what to do when:
he withdraws and sulks

when he tries to punish you

when he has angry outbursts

when he won't participate

when he lets his issues affect your relationship

when he talks down to you or criticizes you

when he breaks promises
Return to top >>>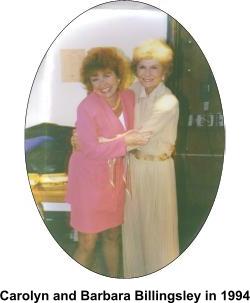 She was our nation's greatest mom – June Cleaver on the TV show Leave it to Beaver! Barbara Billingsley passed away last week at the age of 93.

I had the pleasure of meeting Barbara in l994 (she was 77 and still looked great! See photo) when we both appeared on The Mike & Maty Show in L.A. on the topic of "How Real Mom's Can Learn from TV Moms." We spent time in the Green Room chatting and she was as delightful in person as she was on the screen. She had a true warmth about her. She even reached out and chatted with Alan while I was on the air and he was quite impressed.

June Cleaver was the epitome of what a mom was supposed to be. She always looked attractive in her housedress and pearls. She always talked over problems with her kids, Beaver and Wally. It was our first model of what a perfect (nondysfunctional) family was supposed to look like. Most of us now know that real families seldom looked like that. The Cleaver family's parents never fought amongst themselves; they were totally focused on their children's well-being; there was no yelling, no money problems, no alcohol issues, and certainly no talk of divorce. Life was smooth and stable.

Though the show was only on for 6 years (1957-1963), it seems like it was on much longer because of the impact it had on American families. For those of you too young to know the show (unless you saw the 1983 reunion movie), Leave it to Beaver portrayed the Beaver family as the iconic American family: June the perfectly coiffed housewife, Ward the dad who wore a suit to dinner, the Beaver (the good-hearted kid who was always getting into trouble), and Wally the older brother who thought his kid brother was stupid. Dad was a good provider (though we never knew what he did for a living). Mom stayed at home and had dinner on the table every night and met her husband at the door each night looking beautiful. Times certainly have changed. June and Ward Cleaver were not even allowed to show that they slept in the same bed in those days.

Leave it to Beaver had both a good and bad influence on American families. It was good that we saw a role model of how good, loving parents should be – checking in with their children to find out what happened at school every day and getting involved in solving their children's problems. On the other hand, we often felt bad that our own families did not measure up since we believed this false portrayal of the family. It wasn't until many years later (in the early 80's) that talk shows like Oprah enlightened us and we found out how dysfunctional most families really are. And the show certainly was detrimental to women and their desires. Some men never got over how June Cleaver could wait on everyone, be so sweet and giving, and have no needs of her own (like a career or personal interests). In my first marriage at 21, I married a man who grew up with this belief system about women, and the war between us was on until we divorced. I'm sorry to say that there are still a few men (not many) who still cling to that idea of the perfect woman.

The Beaver Cleaver family was not realistic. What was real, however, is that Barbara Billingsley – June Cleaver – played the warm, loving mom role perfectly because it was who she truly was (except that she was of course also a career woman). She was one of the warmest and nicest people there ever was. She was truly the mom we all wished we had!
Return to top >>>
Carolyn Bushong, L.P.C, is an expert on relationships and a licensed therapist. She is known for being one of the top relationship therapists in the country and the author of 3 relationship books. She has appeared on Oprah, the View, and many other TV shows, and she has been giving relationship advice on Denver radio for more than15 years. She has been helping people like you improve your life and relationships for more than 30 years. Cosmo, US Weekly and other magazines quote her expert relationship advice, and McCall's named her one of the "Top 6 Passion Doctors" in the country. Carolyn Bushong always has fresh, up-to-date, hot information on topics that will inspire you and change your life and improve your relationships. She has clients all over the country, some who come into her office and others who receive Carolyn's expert advice through phone counseling. Carolyn Bushong is an excellent psychotherapist, but she also lives what she teaches, as she is in a happy, healthy relationship with Alan, her mate of 23 years.
FOLLOW ME ON FACEBOOK as I post all of my articles there.
---
How to get Carolyn Bushong's Relationship Advice:
Individual Counseling: l hour or ½hr sessions in office or phone, Health Insurance covers a portion. Couples Counseling: 1 ½ hr. sessions, Health Ins. covers a portion.
Group Counseling: Tuesday night group meets 5:30 - 7:30 pm, 8 members, less expensive.
Purchase Carolyn Bushong's books: for sale in her office, on her website or B&N.com.
Subscribe to free email newsletter: www.carolynsays.com
Phone Counseling is a great way to do therapy, especially for the really busy person who's constantly on the go, or the person who is shy or hesitant to talk about their problem, or when the weather is bad and you don't want to drive to a therapist's office. It just makes sense in this day and age to be able to call and discuss a problem and get advice on a situation with having to leave work and drive to my office.
Email Advice: Visit Carolyn's website for more information.
303-333-1888
Also, for free articles on handling family issues, guilt, money problems, dating, how to stop fighting dirty, and 10 reasons you're not married yet, go to my website at www.carolynsays.com. And if you haven't received my free 52 relationship tips, go in a sign up all over again and you'll get them. For free articles on Why Ladies Love Outlaws, How to be a bitch and handling issues with lovers, friends, parents, children, and co-workers, go to www.Examiner.com,
You are receiving this message because you signed up to receive The Relationship Newsletter, are a client, or purchased something from Carolyn Bushong. If you'd like to be removed, click the opt-out link below.

Copyright 2010 Carolyn Bushong. All rights reserved.

Note: Please add Carolyn@CarolynSays.com to your address book so you have no trouble receiving future issues!

Tell a Friend: Please forward this message to your colleagues, clients and friends.

Carolyn Bushong, L.P.C.
360 So. Monroe St.
Suite 290
Denver, CO 80209

www.CarolynSays.com
Email: Carolyn@CarolynSays.com

Contact Carolyn Bushong at
303-333-1888